Need Protection? We've Got you Covered...literally.
Whether you have a puppy, an elderly dog, or just want an additional layer to add to the longevity and protection of your bed stuffings, the Bed Liner is exactly what you will need!
These are made with a strong, resilient, and waterproof Ripstop material.
Ripstop is typically used for outdoors products, like sails, tents, sleeping bags, just to name a few. It is an excellent barrier for the 'elements', which in this case could be accidents, spills, common 'wet dog' odours, and also just generally better and easier cleaning and washing ability overall.We want to encourage the use of recycled items from right in your home, or purchased second hand, or sourced ethically to the best of your ability!
IDEAS! Here's some things you can fill your new dog beds with:
Clothing ~ any used or old clothing you may have 
Linens ~ blankets, duvets, pillow cases, sheets, etc.
Used Pillows ~ look at the last photo listed here! those are ALL in ONE thrift store
Used Foam ~ maybe you have a senior dog that needs something dense
Textile Waste ~ leftovers from your craft projects or hand me downs
...you get the gist ;) 
Water Resistant Liners

From drenched to dry: waterproof liners for any pooch's patchwork bed! Whether you've got a time-tested old-timer or an energetic young tail-wagger, we've got the solution to soggy bedding. Say goodbye to wet woes and hello to cozy, carefree naps!

How To Fill Your Dog Bed

Lend a Paw to Mother Earth by Creating Pawsitively Comfy Dog Beds by Re-utilizing Up-cycled Materials! Get Creative: you can use old blankets, pillows, clothing, used foam, or stuffing. There are plenty of options out there!

Stuff Them To Your Liking

Zip, Fill, & Fluff! Easily change out the items to your desired thickness or your dogs needs for comfort.Easy to remove your stuffing in in case of emergencies, or to wash it!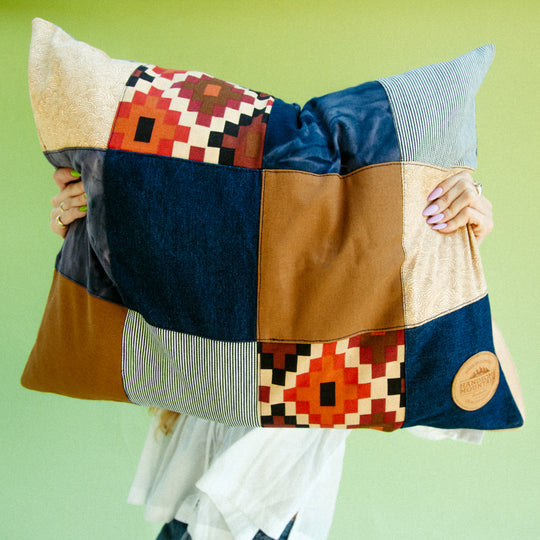 HANDMADE WITH LOVE

SUPERIOR QUALITY

UP-CYCLED & NATURAL MATERIALS

STUFF THEM YOURSELF!
PRODUCT FEATURES

Easy Access Side Zipper
Designed & Made In Canada
MATERIALS

100% Waterproof Nylon Ripstop

NOTE: Due to having sewn seams, we cannot guarantee 100% waterproofness along seam lines
Care

Machine On Gentle in Cold Water

Use a hypoallergenic laundry detergent that is free of dyes and perfumes

OR Hand Wash in Cold Water