The Patchwork Dog Bed ~ MISCHIEVOUS MALAMUTE 
Our new multi-textile dog beds are created by using up a combination of leftover materials from previous collections, up-cycled materials, and some new materials in order to bring you a beautiful dog bed for your home, and most importantly for your dog. 
These beds are not only a mix of textures, and soothing color palettes that blend into most people's home decor, but they are carefuly curated collections of fabrics that will create a comforting place for your trusty sidekick.
From your home office, to your living room, or even at your cabin, the patchwork dog beds are designed and made with the highest quality materials, and workmanship. Created with longevity, and durability in mind for its use and functionality of a traditional dog bed.
This bed is approved by the interior designer for its different and unique addition to any room of the house, making sure your pup catches the comfiest and trendiest zzz's. Get your pup the bed of their dreams!  
NOTE ~ OUR DOG BEDS DO NOT COME STUFFED! WE ENCOURAGE YOU TO USE UP-CYCLED MATERIALS!
Top Stitched For Superior Durability

Get Ready for Some Tail-Wagging Fun with our Super Strong and Stunning Dog Beds!

Three Sizes to choose from

Give your Pup the Ultimate Snooze Experience with our Three Different Sizes of Dog Beds to Choose From

Stuff Them To Your Liking

Fill Them with a variety of things!

They'll be Dreaming of Chasing Squirrels in No Time!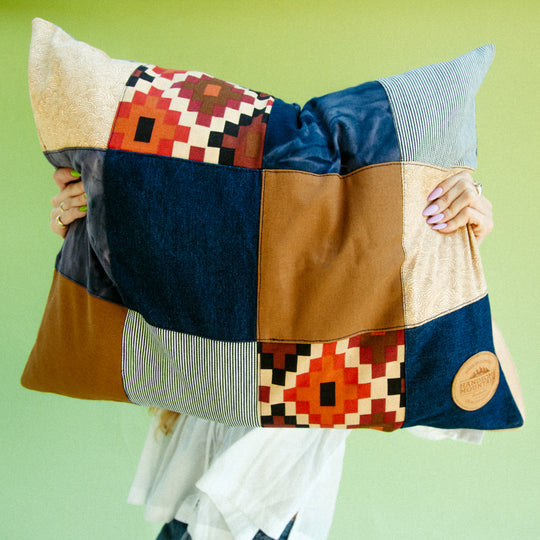 HANDMADE WITH LOVE

SUPERIOR QUALITY

UP-CYCLED & NATURAL MATERIALS

STUFF THEM YOURSELF!
PRODUCT FEATURES

Handsome Mountain Faux Leather Patch
Industrially Top Stitched for Extra Durability & Strength
Hidden & Strong YKK Zipper with a Gold Metal Zipper Pull
Designed & Made In Canada
MATERIALS

Multi-Colored Textiles such as: Cotton, Denim, Cotton Blends 
100% Cotton Denim Bottom
Made using Up-Cycled & Natural Fabrics as much as possible
Care

Machine Or Hand Wash in Cold Water

Use a hypoallergenic laundry detergent that is free of dyes and perfumes

Hang to Dry

Fluff on Low - to help remove any remaining unwanted dog hairs